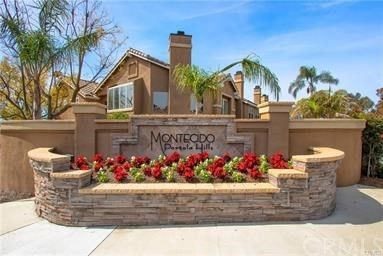 Montecido at Portola Hills Association is a private neighborhood located in Trabuco Canyon, California. The Association is comprised of 300 Condominiums. Amenities include a pool, spa, clubhouse, exercise room and friendly neighbors.
Montecido at Portola Hills Association is registered as a non-profit mutual benefit corporation with the State of California. The Corporation's charter is to provide community services and facilities for the general use, benefit and welfare of the owners. In fulfilling this charter, Montecido at Portola Hills Association is responsible to operate, maintain and regulate the operations and business affairs of the projects common areas and common interests.
We hope you find this website beneficial. The purpose of the website is to help create a sense of community and provide helpful information regarding our homeowners association. We encourage you to become familiar with the website and its contents to assist you in your understanding of your homeowners association and its operation.
LATEST COMMUNITY UPDATES:
INSURANCE INFORMATION & FINANCIAL IMPACT: The Association recently held a Town Hall Meeting to discuss the shortfall of insurance coverages obtainable by the Association, due to the Fire risks, and the financial impact to the homeowners. Please review the following documents for detailed information on this matter.
-Town Hall PowerPoint Presentation can be found HERE.
-Town Hall Video is available upon request by emailing Lauren@totalpm.com
- Insurance Coverage Notice & What you can do to maximize your personal coverages can be found HERE.
-Notice of Increase of Assessments & Special Assessment can be found HERE.
California Subsidy Legislation Bill – Click HERE to view correspondence from Brian Berg Insurance Services with information to Petition the State of California for relief on the insurance issue.
2023 Optional Parking Permit Renewal – If you have the optional parking permit, the 2022 permit expires December 31, 2022. Enforcement of the new permit begins January 1, 2023. Please apply for the 2023 Optional permit immediately. Notice & Application can be found HERE.
COMMUNITY WIDE PAINTING PROJECT: The Board of Directors has contracted with Pilot Painting to perform community wide painting of the exterior buildings, walls, front doors & garages. A notice was mailed to all residents, which can be found here (see attachment). Notices will be posted on garage doors in advance when the painters will be approaching your building. Download information HERE
For after hours noise disturbances, please contact Patrol Masters at 877-648-0602. A guard is onsite from 11pm-6am nightly and can address noise concerns promptly.
Please read a message from Total Property Management regarding COVID-19 Mitigation Protocol: Download HERE

- STAY INFORMED! Sign up to receive email alerts whenever there is community news, information or important documents posted on our community website! Signing up is easy & confidential! Just click HERE to read and fill out the sign up form!